How to create an award-winning sustainability strategy

Sustainability is a popular topic these days, with companies around the world sharing their efforts to make a difference. But how do you actually build and promote a sustainability strategy that makes a difference?
We talked to Rémi Weber, General Manager at Lumiforte EMEA SAS about their award-winning sustainability approach. "I've been at Lumiforte for over six years and in that time I've re-evaluated our carbon footprint both on a personal and business level. From educating my two daughters on the topic to involving employees in our strategic sustainability decisions, in the end we're doing this together", says Rémi.
Sustainability at Lumiforte

Lumiforte EMEA SAS started its road to sustainability in 2020. As part of a global effort to optimize factories, the Lumiforte plant in Échirolles (France) got a complete revamping. "We started by rethinking the whole operation", says Rémi. "No process was left untouched. From purchasing to production to distribution. Most importantly: we were pragmatic in our approach. We simply started making changes where we could."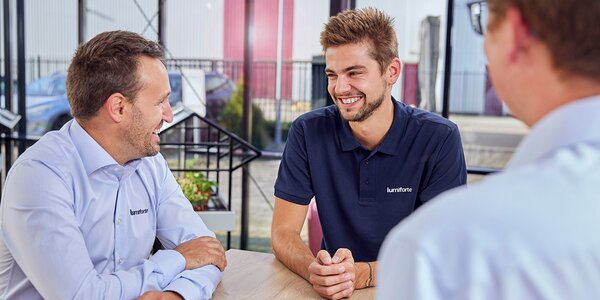 "Our end goal is to build a closed loop for our products. And we'll get there."
Rémi Weber, General Manager Lumiforte EMEA SAS
And indeed, the list of green upgrades is long. For this, the plant received the national Responsible Care trophy from France Chemie in 2022. Rémi points out: "It's important to take every aspect of your operations in consideration. We implemented smaller changes like replacing all of our monitors and lighting to eco-friendly alternatives. In our purchasing procedure, we source more local materials and buy more in bulk. And for our production process we try to keep a closed loop on various fronts: we clean and reuse our waste water with our own water treatment system, we obtain heat from the city hot-water network in Grenoble and our packaging is made from recycled plastic."

In 2022, CEO Guido Janssen paved the way to a bigger sustainability strategy: "We want to gain and maintain insight into the impact of our products, continuously improve them and be transparent about this. We want that as a team, but retailers, growers and future talent also demand this from us", he explained in an interview with sustainability agency Etiquet.

But where does one start with undertaking a challenge like this?
Embarking on the sustainability adventure

Sustainability is a journey that needs clear and well-defined goals that resonate with your company's core values and aspirations. Rémi emphasizes: "Setting realistic goals is important. It helps keep things manageable and tangible. It also means you can celebrate achievements regularly, which is a great motivation for the team. Start with the big picture - what do you want to achieve over the long term? And then set smaller objectives that will help achieve that long term vision."

It's important that these goals are not just lofty ideals. They need to be attainable, measurable and time-bound. Rémi: "At Lumiforte we've set ambitious but realistic goals: 50% less wastewater, 50% less waste, 70 tons of CO2 production. We linked clear KPI's to the goals so we can measure everything in a specific timeframe. Our partners can calculate our footprint, so we know if we're still on the right track."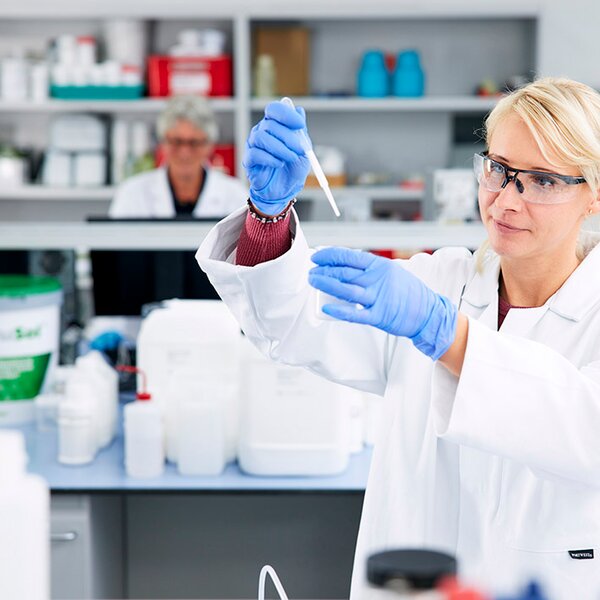 A collective effort

Once you've set your goals and KPIs, you'll need to get to work. And you can't do that alone. Your employees are not just the backbone of your organization; they can also be the driving force behind your sustainability initiatives. Rémi explains: "When we started this project, we gathered a group of people from different departments. We set up a project group to formulate and execute the strategy. Getting input from different angles provided us with valuable insights. It allowed us to come up with more varied and creative ideas. Together we coordinate the work that needs to be done towards reaching the goals. One person is working full-time on executing the sustainability strategy, planning actions and monitoring KPIs. This keeps the project structured. But in the end, it's all a collective effort."
Making the difference

Sustainability can be extended to every aspect of your business. Whether it is the eco-friendliness of your product, your distribution process or even the environmental footprint of your employees. By integrating sustainability into your business, you not only contribute to a healthier planet but also position your company for long-term success.
"We're happy with our results so far. It's great to see the recognition that our achievements get. Our end goal is to build a global ecosystem: a closed loop for our products, like a circular economy. And we'll get there. We're already really making a real difference with our efforts and we will continue to do so", Rémi concludes.
More information on this topic

In 2022, Lumiforte EMEA SAS won the Responsible Care Trophy in the Environmental category, awarded by the French chemical association France Chemie. Want to learn more about our sustainability efforts in France?

Read more here