Lumiforte and Rui Xue Global agree on Joint-Venture in China

Lumiforte is the global market leader in developing, manufacturing and selling shading coatings and cleaning products for greenhouse horticulture, sports line marking, and other functional coatings for agriculture and industry. Rui Xue Global specializes in designing and building smart greenhouses and sales of flower seedlings, agricultural equipment, and coating products. Taking this into consideration, it's been officially announced today the signing of a memorandum of understanding (MOU) to launch a joint-venture (JV) headquartered in Beijing.
The new company also plans to provide local production, storage, transportation, and delivery services to its customers, initially targeting wholesalers and distributors within the greater China area.

This JV will be a leading coating platform for greenhouses serving clients in China and at a later stage other Asian countries, providing cost-efficient, competitive, and sustainable products to multiple end markets.
"We are thrilled to announce the upcoming forming of a joint venture since the relationship between both companies goes back already 20 years," says Guido Janssen CEO of Lumiforte. "Our combination enhances virtually every element of our business to deliver quality products and services to customers as well as optimizing investments and costs for stronger financial returns and profitable growth.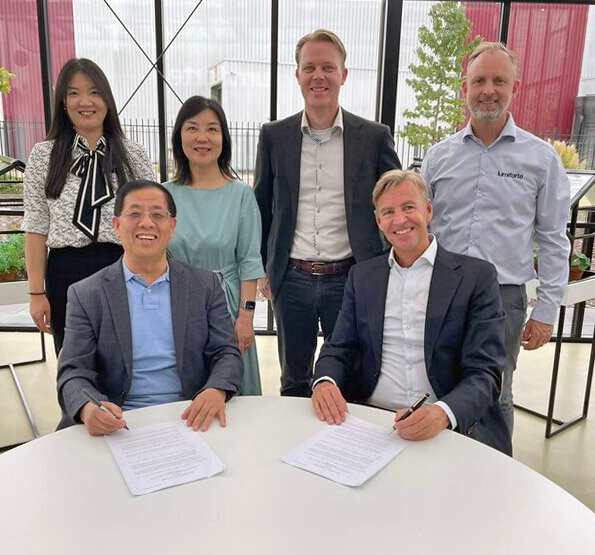 We will have a larger portfolio, that will enable us to meet more of our end-users' needs. Furthermore, we will have a greater capacity to meet end-user requirements within greater China and at a later stage in other Asian countries, by leveraging our combined manufacturing, warehousing and transportation networks.
In addition, we will be able to provide truly superior service as we combine our technical and commercial expertise and platforms to facilitate a better customer experience. The fact that we are closer to our sources and markets will lead to more scale advantages related to procurement, production savings, and optimized delivery routes and costs."
Dr. Ruiqing Huang, President of Rui Xue Global: "We, together with Lumiforte, were the earliest adaptors that introduced the coating products to China. By that time, the shading products were really new to the Chinese market and people did not really believe in it. After all these years and efforts, our clients are educated to use these shading products, and now we really see the market has developed a big increasing demand for them. We are strongly convinced that establishing a JV, will benefit both parties and provide faster, superior, more competitive and sustainable products and services."
Photo description: from left to right:
Zi Ying Huang (Marketing Manager Rui Xue Global -standing 1st left),
Dr. Xueping Qu, (Vice president Rui Xue Global -standing 2nd left ),
Dr. Ruiqing Huang (President Rui Xue Global, sitting left),
Niels de Groot (CFO Lumiforte, standing 2nd right)
Barry Zuidgeest (CCO Lumiforte, standing 1st right )
Guido Janssen (CEO Lumiforte, sitting right)