Innovation: advances in drone technology have enabled the application of shading

For some years now, drones have been widely used in agriculture for different purposes: mapping, irrigation, monitoring, application of different products, etc. But the greenhouse produce growing operation Geoponica in Mexico, is trailblazing by using them to cover their greenhouses with a Sudlac (brand of Lumiforte) coating.
With more than 10 years of experience growing greenhouse produce, Geoponica has become an expert in the cultivation of bell pepper and has a little over 44 hectares of production divided in two growing operations. Their bell pepper production is exported to the United States and Canada.

Roberto Vidrio, maintenance manager at the company, says that for this very reason, one of the important elements to maintain the quality and health of his crops is protection from the sun's radiation. Hence, they use shade in their greenhouse covers, which helps them to protect the plant and the fruit.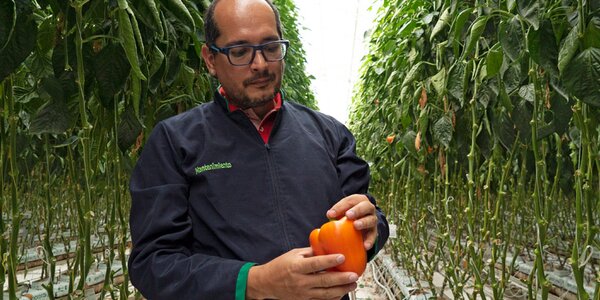 "The growers that can get the most benefit from applying shading coatings with a drone are those who's fruit dehydrates due to the temperature or radiation."
Roberto Vidrio, maintenance manager Geoponica
"If shading is not used, the peppers do not ripen uniformly and this automatically discards the product from being able to export it, in addition to stressing the plant. But with this application, the plant develops in a more homogeneous way. It also helps us to control the issue of relative humidity in the greenhouse a bit", says Roberto.

To achieve adequate coverage, they use the Eclipse LD shading coating by Sudlac; which they normally use on plastics, with an applicator, by workers who apply plastic by plastic. "But now we are testing the shading coating application with a drone because we have heard that it is very efficient, both in application time and in the use of the product. And that also helps other situations, such as people's safety and less wear on plastics. It is much more effective overall. We use between 50% and 55% shading," he adds.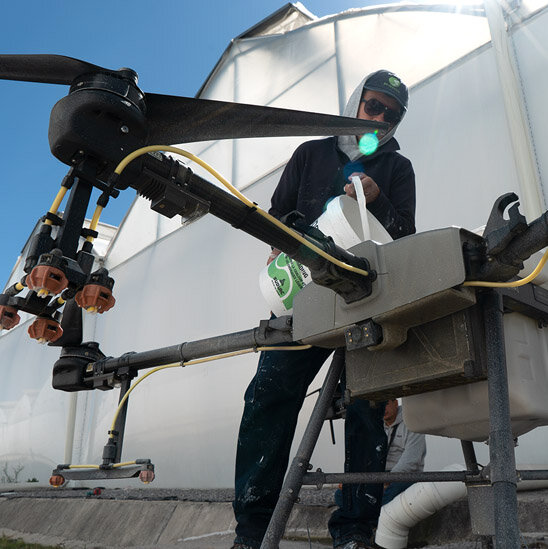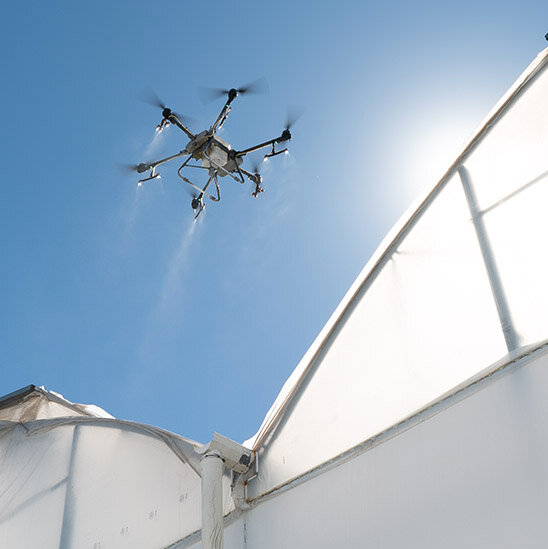 How do they do it?

Roberto says that applying the shade depends a lot on the weather, but generally they start applying the shading at the beginning of February, so when spring arrives the roof of the greenhouse is completely covered.
"Currently, we are using Eclipse LD, because with it we don't need to change much the dosages, it's exact. In addition, it has worked very well for us because it has resisted the ravages of the rain," Roberto points out.
Regarding removal, he comments, it has been very easy with this product, and does not cause damage to the plastics.
Benefits of using a drone

The application of shading coatings with a drone is done to avoid application by hand. The drone contractor is also enthusiastic about applying coatings with a drone, he says: "The growers that can get the most benefit from applying shading coatings with a drone are those who's fruit dehydrates due to the temperature or radiation. So, if you take care of that part with the drone, you have a huge benefit and no risk. We have applied shading coatings with a drone to many different crops: berries, peppers, habanero peppers, jalapeño peppers all for export.