High quality Industrial coatings

Coat-FX offers high quality coatings that are focussed on the industrial- and tertiary sector. The brandname discloses that it is all about coatings that 1) Affect and have an 2) Effect. Firstly, it affects, and therefore influences, the surface on which it is applied. Secondly, the coating achieves the desired effect. Whatever the purpose of the coating may be.

Coat-FX offers coatings such as Cool-FX, designed to reduce heat gain by reflecting solar radiation on roofs and other surfaces, resulting in better living/working conditions and lower energy costs.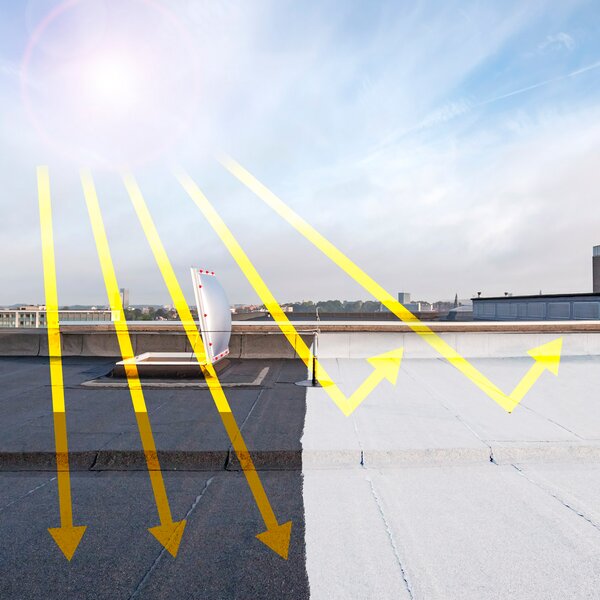 Cool Roofing
Over the past decade, the steady rise in global temperatures has become increasingly evident. This shift in the world's climate has had local impacts, including the excessive accumulation of heat in buildings, resulting in difficult working and living conditions for humans and animals alike. Many solutions have been proposed to address this issue. Some involve active approaches such as air conditioning, while others are passive solutions like our Cool-FX coating.

Cool roofing coatings are an increasingly popular solution in many countries for reducing the impact of heat during warm seasons. On the Coat-FX website you can download a whitepaper which explains how using a roof cooling coating can help keep building climates more manageable. By using this technology, you can also save energy and create a more comfortable indoor climate.
Cool down your work climate the smart way

Cool-FX is a temporary water-based roof cooling coating specifically developed to reflect solar radiation on barns, skylights, and commercial/office buildings. Once applied, Cool-FX reflects the sun, preventing heat absorption and keeping the building cool. The benefits are numerous: cooling of the building, better working conditions and energy savings.
APPLYING A COATING

In the summer during warm weather, roofs can warm up to well over 70 °C (160 °F). This heating up causes undesired temperature increases underneath the roof. By painting the roof surface white, much of the solar radiation will be reflected. The treated roof surfaces can be cooler by as much as 40 °C (100 °F) compared to untreated roofs. This can lower the inside temperature up to 7 °C (45 °F) and can save a considerable amount of energy.

Cool-FX mixes very easily with clean water and can be applied in different concentrations. Cool-FX can be applied manually (with a spray gun or with a paint roller), or by drone. Depending on the weather conditions (rain, wind, UV) and the concentration used, Cool-FX will gradually wear off until it is completely removed from the surface of the roof or skylight. The higher the concentration and the more porous the surface is, the slower the degradation will be. Once the coating has completely disappeared, the roof will return to its normal appearance and colour.

If you would like more information about which application is the right one for your location and roof please contact us and we will put you in touch with the right colleague within our organization!
WORKING AT LUMIFORTE
Lumiforte is constantly looking for motivated employees. If you are interested in making a contribution to our products, growing the business, and advancing your own development, apply to our job openings or send us an open application.
REVIEW THE POSSIBILITIES